PRAGUE (AFP) – US Secretary of State Condoleezza Rice signed Tuesday what she called a "landmark" missile defence deal with the Czech Republic, drawing immediate condemnation and threats from Russia.
The accord permits the siting of a tracking radar station on Czech soil as part of an extended US missile shield that Washington says is necessary to ward off potential attacks by so-called "rogue" states such as Iran.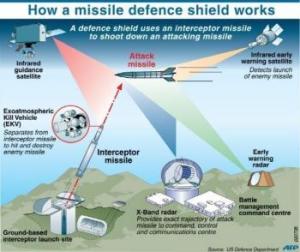 Moscow immediately threatened to respond with "military resources" to what it sees as a threat on its doorstep from the proposed system.
"If a US strategic anti-missile shield is deployed near our borders, we will be forced to react not in a diplomatic fashion but with military resources," a statement from the foreign ministry said.
But the United States said Wednesday that Russia and Europe should be "equal partners" in its planned missile defence.
"We seek strategic cooperation on preventing missiles from rogue nations, like Iran, from threatening our friends and allies," said White House spokesman Gordon Johndroe. "We will continue to have a dialogue with the Russians."
"We want to design a system between the United States, Russia and Europe, with everyone participating as equal partners," Johndroe said on the margins of a rich nation summit at Toyako in northern Japan.
"It's truly a landmark agreement," Rice said after signing the accord with Czech Foreign Minister Karel Schwarzenberg. "It is an agreement that is befitting for friends and allies who face a common threat in the 21st century."
During her talks in Prague, Rice charged that Iran's work to build longer-range missiles was proceeding "apace" while at the same time it was defying international calls to halt sensitive nuclear technology.
"Ballistic missile proliferation is not an imaginary threat," the top US diplomat warned.
Rice also reiterated Washington's position that the radar station was not aimed at Russia and instead served as a "building block" for not just Czech and US security but for the "international community as a whole."
The United States wants the radar twinned with interceptor missiles in neighbouring Poland, although negotiations with Warsaw have becomed bogged down with Polish demands for additional security guarantees.
Rice said she thought it made no sense to visit Poland during her current tour of Europe because gaps remained in the negotiations.
Russian President Dmitry Medvedev had already clashed with US President George W. Bush over missile defence at their first face-to-face meeting, during the G8 summit in Japan on Monday.
Analysts say the Russians fear not only a potential long-term threat to their own nuclear deterrent and the security of their airspace but also associate the shield with NATO's enlargement to include Ukraine and Georgia.
NATO endorsed the US missile defence plan at its April summit in Bucharest.
The US has in the past suggested that Russian inspectors could visit the anti-missile sites, as long as Prague and Warsaw agreed.
"We want the system to be transparent to the Russians," Rice insisted Tuesday.
Protestors from Greenpeace, who fear the missile shield will trigger a new arms race, unrolled a massive image of a target on one of the hills overlooking Prague ahead of Rice's arrival.
Opinion polls regularly show around two-thirds of Czech opposed to hosting the US radar.
Around 2,000 demonstrators gathered in Prague's central Wenceslas Square, with banners proclaiming "No to the Radar" and "Resign."
But Schwarzenberg expected the deal to be ratified by parliament.
"There are sufficient lawmakers who are sufficiently aware of their responsibility and will go forward in strength during the voting," he told reporters.
Czech Prime Minister Mirek Topolanek said the deal reflected a "joint desire to protect the free world".
Prague was the first leg of a three-country tour that will take Rice to Bulgaria and Georgia where she will renew US support for Tbilisi's bid for NATO membership — another bone of contention with Moscow.
US warns Iran on missile threat
BBC News, UK – 2 hours ago
The US has said it will not hesitate to defend its interests and those of its allies as Iran continues missile tests. Secretary of State Condoleezza Rice …
Iran test-fires more missiles
CNN International – 2 hours ago
(CNN) — Iran test-fired more missiles overnight, Iranian news media reported Thursday, one day after it tested a long-range Shahab-3 and other missiles in …
Iran test fires more missiles
Aljazeera.net, Qatar – 3 hours ago
Iran's military has test fired more missiles in the Gulf on the third day of its war games, state TV reported on its website. …
US, Israel downplay Iran's military might
PRESS TV, Iran – 2 hours ago
The US and Israel have downplayed Iran's missile tests, saying its new class of missiles do not suggest enhanced military capability. …
Iran test-fires more missiles in war games
Telegraph.co.uk, United Kingdom – 1 hour ago
By Carolynne Wheeler in Jerusalem Iran has test-fired several more missiles in a second day of exercises, flexing its military muscle and further increasing …
Is Iran changing its nuclear strategy?
Ynetnews, Israel – 1 hour ago
The international pressure and the technical difficulties involved in uranium enrichment have prompted Iran to change its nuclear development strategy, …
Iran test fires missiles for second day
guardian.co.uk, UK – 3 hours ago
Iran today test fired missiles in the Persian Gulf for a second consecutive day, Iranian state TV reported. The tests are likely to infuriate Israel and the …
US, Iran at high risk of colliding militarily
Buffalo News,  United States – 1 hour ago
Iranian missile tests during war games in the Strait of Hormuz have worsened the volatility of the Middle East. By Ali Akbar Dareini and Matthew Lee …
The Iran factor
Albany Times Union, NY – 2 hours ago
Iran's test firing of nine ballistic missiles, including a long-range one capable of striking Israel, is a further reminder to the Bush administration that …
Mounting sense of crisis
BBC News, UK – 2 hours ago
By Jon Leyne A day after a major Iranian ballistic missile test provoked international condemnation, the front pages in Iran are covered with pictures of …
TV: Iran tests more missiles in Gulf
Xinhua, China – 2 hours ago
TEHRAN, July 10 (Xinhua) — Iran tested more medium and long-range missiles in the Gulf for a second day early Thursday, Iran's satellite Press TV reported. …
Japan, China dismayed over Iran tests
PRESS TV, Iran – 2 hours ago
Japan and China have expressed concern over Iran's recent missile test and warn that the gesture could disturb peace in the Middle East. …
Iran test-fires more missiles in PG
PRESS TV, Iran – 2 hours ago
Iran has test fired additional long and medium range missiles over the Persian Gulf waters on the third day of military maneuvers. …
Iran tests missiles amid tensions
Reuters – 5 hours ago
By Zahra Hosseinian and Alistair Lyon TEHRAN (Reuters) – Iran test-fired nine missiles on Wednesday and warned the United States and Israel it was ready to …
Shelby:Missile defense work must continue
The Huntsville Times – al.com, AL – 2 hours ago
US Sen. Richard Shelby said Wednesday that reports about Iran's successful missile tests underscore the need for the United States to continue pressing for …
Iran Test-Fires Long-Range Missile
Washington Post, United States – 19 hours ago
Iran said today it had test-fired a long-range missile capable of reaching Israel and US troops in the region, a step promptly condemned by the Bush …
Iran Test-Fires Missiles, Reports Say
New York Times, United States – Jul 9, 2008
By ALAN COWELL PARIS – One day after threatening to strike Tel Aviv and United States interests if attacked, Iran's Revolutionary Guards were reported on …
Israel's new warplane to spy on Iran
PRESS TV, Iran – 3 hours ago
Israel says it will reveal a military aircraft capable of spying on Iran in reaction to Tehran's recent military exercise in the Persian Gulf. …
AP Top News at 5:24 am EDT
The Associated Press – 2 hours ago
TEHRAN, Iran (AP) – State television says Iran has test-fired medium- and long-range missiles in the Persian Gulf for a second day. …
Iran's missiles are just for show
Asia Times Online, Hong Kong – 2 hours ago
By Pepe Escobar NEW YORK – It is unimaginable not to get the message of Iran on Wednesday test-firing nine long-and-medium range missiles – including the …
US Lawmakers Worried by Iranian Missile Tests
Voice of America – 15 hours ago
By Dan Robinson Iranian missile tests have provoked widespread criticism in the US Congress, where lawmakers called them provocative and urged stronger US …
Iran reportedly test-fires 9 missiles
International Herald Tribune, France – 23 hours ago
By Alan Cowell PARIS: One day after threatening to strike Israeli and US interests if attacked, the Iranian Revolutionary Guards were reported Wednesday to …
Iran sends missile test warning
BBC News, UK – Jul 8, 2008
Iran has test-fired what it called a new version of the Shahab-3 missile, whose range puts it within reach of Israel, state media have said. …
Confrontation escalates between Iran and Israel
Christian Science Monitor, MA – 15 hours ago
By Scott Peterson | Staff writer of The Christian Science Monitor Reporter Scott Peterson describes the fast pace of developments in the row over Iran's …
US says Iran should stop missile tests
Reuters – Jul 9, 2008
By Tabassum Zakaria TOYAKO, Japan (Reuters) – The United States said on Wednesday Iran should immediately halt development of ballistic missiles and stop …
Israel to show airplane that can spy on Iran
The Associated Press – 5 hours ago
JERUSALEM (AP) – Israel says it will publicly display an advanced aircraft that can spy on Iran. Israel's Army Radio says the plane is being shown in …
Iran missile test 'provocative'
BBC News, UK – 20 hours ago
The US and Israel have condemned Iran after it test-fired a series of missiles, including one capable of reaching Israel. Iran state media said the Shahab-3 …
Iran Test Fires More Missiles
Sky News, UK – 1 hour ago
Use the drop down menu below to filter stories and videos the way you want – when you want it! Iran's military has test-fired more missiles in the Gulf on …
Tehran leaves no room for doubt
guardian.co.uk, UK – 23 hours ago
Just in case there was any ambiguity about Iran's missile test today in the Hormuz Straits, the air force chief, General Hossein Salami, put any lingering …
US condemns Iran missile tests
Aljazeera.net, Qatar – 16 hours ago
The United States and Israel have condemned Iran's test firing of a missile capable of striking Tel Aviv or US bases in the Middle East. …
Iranian missile tests prompt US warning
guardian.co.uk, UK – Jul 9, 2008
The White House has warned Iran to stop missile testing if it wants to gain the trust of the world, after "war games" in the Gulf today that Iranian …
Defiant Iran angers US with missile test
AFP – Jul 9, 2008
TEHRAN (AFP) – Iran on Wednesday test-fired a missile whose range puts Israel within reach, angering the United States amid growing fears that the standoff …
Iran Reports Missile Test, Drawing Rebuke
New York Times, United States – 15 hours ago
Iranian Television, via AP By ALAN COWELL and WILLIAM J. BROAD PARIS – Iranian Revolutionary Guards practicing war-game maneuvers test-fired nine missiles …
Iran missile test ratchets up regional tensions
Times Online, UK – 23 hours ago
Iran test-fired a missile capable of reaching Israel early this morning, as part of war games that escalate the sabre-rattling between the Islamic Republic …
Iran test fires more missiles: report
Hürriyet, Turkey – 2 hours ago
Iran tested more missiles in the Gulf, state media reported on Thursday, a day after drawing Western criticism for test-firing nine rockets, …
Total quits Iran gas deal
Kenya Broadcasting Corporation, Kenya – 2 hours ago
The head of French energy giant Total has said it will not invest in Iran because it is too politically risky. The company had been planning to develop the …
Iran's missile tests irk Israel, US
Calgary Herald,  Canada – 4 hours ago
A day after threatening to strike Tel Aviv and US interests if attacked, Iran test-fired nine missiles Wednesday — at least one with a range capable of …
Iran test-fires 9 missiles to show "resolve"
Seattle Times, United States – 5 hours ago
With US warships in the Persian Gulf and the rhetoric between Iran and Israel growing more heated, Tehran on Wednesday test-fired nine. …
Iran Fires Back With Rocket Test
National Post, Canada – 6 hours ago
UNITED NATIONS – A day after threatening to strike Tel Aviv and US interests if attacked, Iran yesterday test fired nine missiles – at least one with a …